0
Movies News
Jason Isaacs, Robbie Coltrane: 'Don't call Harry Potter a franchise'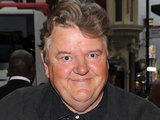 Jason Isaacs
and Robbie Coltrane have stated their dislike over the
Harry Potter
film series being referred to as a "franchise".
Isaacs, who plays Lucius Malfoy, admitted that he loves being part of everything
Harry Potter
-related and is delighted with the treatment the movies have received.
"I always get upset when I hear it called a franchise, because that's when someone sells burgers," he said. "This is a series. This is one story, essentially, that's taken ten years to tell so beautifully and with such care.
"It seems to me there's not a drop of cynicism in anybody's participation."
Coltrane agreed with Isaacs and added: "It really p*sses me off if you're talking about a franchise. This is about seven years in the boy's life, and that's the way we should see it.
"We're all emotionally tied into it, I have to say. We were all terribly sad when it was over."
Watch Jason Isaacs and Robbie Coltrane at the
Harry Potter and the Deathly Hallows: Part 2
London press conference below:
> More Harry Potter coverage> Harry Potter fever: Hollywood pays tribute to the movie icon> Harry Potter Deathly Hallows: Part 2 world premiere - live pictures> Harry Potter Deathly Hallows 2 four new videos debut> Harry Potter Deathly Hallows 2 trailer: 10 best bits> Harry Potter and the Deathly Hallows: Part 2 in pictures> Harry Potter's Matthew Lewis interview: 'I grew up with Neville Longbottom'> Emma Watson 'more nervous kissing Rupert Grint than Daniel Radcliffe'
Watch Hollywood stars such as Tom Hanks, Vanessa Hudgens, Ryan Reynolds and Russell Brand offer their thoughts on the release of the final
Harry Potter
film below:
Additional reporting by Simon Reynolds.