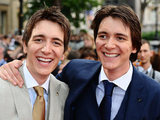 James and Oliver Phelps have spoken of their sadness at the end of the
Harry Potter
film series.
The pair make their final appearance as Weasley twins Fred and George in the forthcoming movie conclusion,
Harry Potter and the Deathly Hallows: Part 2
.
"Today is going to be a sad one; it's the end of the movies," James told
Digital Spy
at the world premiere in London's Trafalgar Square. "But if you're going to go out, you may as well go out in style. And that's what is happening today."
> Harry Potter Matthew Lewis: 'I was terrified filming Voldemort scenes'
Speaking about the battle scenes featured in the David Yates-directed "epic" finale, they recalled a speech made by Voldemort during one of the sequences.
"You have bad guys and villains in other movies, and you kind of see a soft side to them," Phelps said. "Voldemort is just evil. He is the definition of evil. It's like watching a master craftsman do his stuff, as [Ralph Fiennes] was shooting; it was amazing."
Additional reporting by Simon Reynolds.
More 'Harry Potter' coverage> 'Harry Potter Deathly Hallows Part 2' press conference: Video> 'Harry Potter' fever: Hollywood pays tribute to the movie icon> 'Harry Potter' fever: Fans flood Trafalgar Square for world premiere> 'Harry Potter Deathly Hallows: Part 2' world premiere - live pictures> 'Harry Potter Deathly Hallows 2' four new videos debut