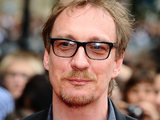 David Thewlis
has admitted that he does not get recognised by
Harry Potter
fans.
The British actor returns as former Hogwarts professor Remus Lupin in the final film of the series,
Harry Potter and the Deathly Hallows: Part 2
.
When asked if he ever gets recognised out and about, Thewlis told
Digital Spy
at the world premiere in London: "I don't, it's really weird. I went to Legoland recently and nobody noticed me at all. It doesn't really impact on my life at all."
Thewlis, who made his debut as the Marauder in
Prisoner of Azkaban
, quipped: "Nobody knows who I am."
> Rupert Grint: 'Harry Potter support is crazy'
Commenting on the scale of the event staged in Trafalgar Square, Thewlis described the premiere as a "cultural event" for fans of JK Rowling's best-selling series.
"They are everything," he said of the fandom. "With this particular film, it wouldn't be anything without the fans. No matter what you think about the films critically, it's all about this really. This is what defines this film. This is a cultural event; it's what these people are here for right now."
Additional reporting by Simon Reynolds.
More 'Harry Potter' coverage> 'Harry Potter Deathly Hallows Part 2' press conference: Video> 'Harry Potter' fever: Hollywood pays tribute to the movie icon> 'Harry Potter' fever: Fans flood Trafalgar Square for world premiere> 'Harry Potter Deathly Hallows: Part 2' world premiere - live pictures> 'Harry Potter Deathly Hallows 2' four new videos debut