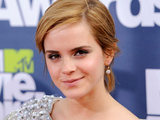 Emma Watson
has revealed that she feels "embarrassed" when she watches the early
Harry Potter
films.
The actress - who plays Hermione Granger in the wizard franchise - explained that the movies show her during her "awkward" stages of growing up.
Watson told
The Daily Telegraph
: "I look back at the early films and see that little girl, and I know it's me, but it seems like a different person.
"It's somewhat embarrassing to see myself go through all the awkward stages of growing up. So much time has passed and so much has happened that it seems that I don't know her, but it's interesting to see how the character has evolved and how much I have changed."
The 21-year-old insisted that she "loved" starring in the
Potter
series and feels "lost" now that they have finished filming the last of the movies.
She said: "I loved every minute of it, and I'm really going to miss it. I felt empty and a bit lost, and it's taken me a while to accept it's over.
"When
Harry Potter
started, I wanted to be an ice-cream man, but the films showed me that I wanted to be an actor, although for the first three I didn't take it very seriously. I just stood where I was told and read my lines. Then with the fourth film I started caring more about my performance."
Harry Potter and the Deathly Hallows: Part 2 had its world premiere in London
last night.
> 'Harry Potter Deathly Hallows: Part 2' world premiere: In Pictures
> 'Harry Potter' stars reveal love for villains'
> 'Harry Potter': What is the secret to the boy wizard's success?
> 'Harry Potter' Lupin actor: 'Fans don't recognise me'
> 'Harry Potter' Imelda Staunton: 'Films are fantastic'
> 'Harry Potter' director 'would reunite with Emma Watson'
> Rupert Grint: 'Harry Potter support is crazy'
> 'Harry Potter Deathly Hallows: Part 2' - Watch the world premiere
Watch the trailer for
Harry Potter and the Deathly Hallows: Part 2
below:
Move through our Emma Watson gallery below: