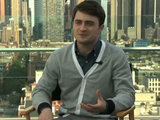 Daniel Radcliffe
has admitted that acting does not "come naturally" to him.
The 21-year-old accepted that there was some truth behind accusations that he, Rupert Grint and Emma Watson won their
Harry Potter
roles based on their physical resemblance to JK Rowling's characters.
"I think there's a perception that we got the parts because we looked right," he said to
Virgin Media
. "I think that's probably quite fair."
Radcliffe also said that he found it hard to compare his
early Harry Potter performances
with the more accomplished turns of other child stars.
"Acting is something that I don't necessarily think comes naturally to me," he confessed. "Certainly not as natural as it does to, say, Haley Joel Osment or Dakota Fanning, who were just giving full-blown adult performances at the age of ten."
Radcliffe said this week that he
will miss the action sequences of Harry Potter
.
He previously argued that he was
unlikely to replicate the success of Harry Potter
later in his career.
Harry Potter and the Deathly Hallows: Part 2
opens in US and UK cinemas on Friday.
Watch the full trailer for
Harry Potter and the Deathly Hallows: Part 2
below:
> 'Harry Potter' fever: Fans flood Trafalgar Square for world premiere
> 'Harry Potter Deathly Hallows: Part 2' world premiere: In Pictures
> 'Harry Potter' stars reveal love for villains
> 'Harry Potter': What is the secret to the boy wizard's success?
Watch
Digital Spy
's video of
Harry Potter
stars discussing who else they'd like to play in the series below: