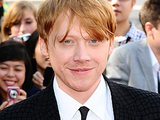 Rupert Grint
has revealed that he is often mistakenly referred to by his
Harry Potter
character's name Ron Weasley.
The actor joked that he has got used to being called Ron rather than Rupert, and has even received mail in the post addressed to his alter ego.
"[The first time a female fan came up to me] was when I was shopping in Brent Cross after the second film came out. Yeah, that was a pretty enjoyable experience," he told
Glamour
magazine.
"After that, things snowballed quite quickly. A real whirlwind. I'd even get letters from foreign fans delivered to my home address with 'Ron Weasley, England' on the envelope – somehow they'd get to me."
He added: "It's kind of become my second name. And when people should out 'Ron' or 'Weasley' in the street, I turn around every time."
Rupert Grint recently said that he
feels "lost" now that the Harry Potter series has come to a close
.
> 'Harry Potter Deathly Hallows: Part 2' world premiere: In Pictures
> 'Harry Potter' stars reveal love for villains'
> 'Harry Potter': What is the secret to the boy wizard's success?
> 'Harry Potter' Lupin actor: 'Fans don't recognise me'
> 'Harry Potter' Imelda Staunton: 'Films are fantastic'
> 'Harry Potter' director 'would reunite with Emma Watson'
Watch
Digital Spy
ask the
Harry Potter
stars what is the secret to the boy wizard's success below:
Move through our Rupert Grint gallery below, spanning the ten years from
Philosopher's Stone
to
Deathly Hallows
: