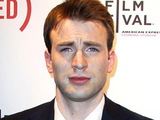 Chris Evans
has revealed that he attended counselling sessions before beginning production on
Captain America: The First Avenger
.
The actor, who takes on the lead role in the upcoming Marvel Comics superhero adaptation, told the
New York Times
that he pursued therapy after being cast in the film to be fully prepared for the experience.
Evans explained: "The second I agreed to do it, I was like, 'All right, I'll do this, but I've got to start working on my head'. I wouldn't have [attended therapy] had I not agreed to do
Captain America
and gone into panic mode."
The sessions spanned one month and Evans revealed that he found the process extremely helpful.
Evans previously
stated that he turned down the role of Captain America several times before eventually agreeing to take part in the project
.
The 30-year-old recently
outlined the "brutal" details of his workout regimen for Captain America in an interview with Men's Health
.
> Captain America to change title in three countries
Watch the trailer for
Captain America: The First Avenger
, which will be released on July 22 in the US and July 29 in the UK, below: