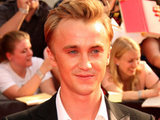 Tom Felton
has said that he does not believe the
Harry Potter
franchise is truly coming to an end.
The actor, who plays Draco Malfoy in the wizarding series, revealed that he would love to pursue his character's storyline further if given the opportunity by
Harry Potter
author JK Rowling.
Felton told
New York Magazine
: "I'm still riding the wave of it, but it's definitely bittersweet. The beauty of it is, I don't think this is really the ending. It's going to continue in some way, even if I'm not clued in to what that is.
"I haven't had the opportunity to pick Jo Rowling's brain about that yet. But I love the prospect of going into more depth with the characters, if she's planning to share additional stories."
Deathly Hallows
director David Yates and producer David Heyman recently
insisted that Rowling is finished with the Harry Potter series and dismissed rumours that a prequel would be released
.
Rowling herself
also confirmed that she has no plans to pen more books in the series
, and would instead allow the franchise to live on through
Pottermore, a new interactive website for fans
.
Felton
handed out pizza to waiting Harry Potter fans in New York City before the premiere of Harry Potter and the Deathly Hallows: Part 2 earlier this week
.
> 'Harry Potter Deathly Hallows: Part 2' world premiere: In Pictures
> 'Harry Potter' stars reveal love for villains'
> 'Harry Potter': What is the secret to the boy wizard's success?
> 'Harry Potter' Lupin actor: 'Fans don't recognise me'
> 'Harry Potter' Imelda Staunton: 'Films are fantastic'
> 'Harry Potter' director 'would reunite with Emma Watson'
> Rupert Grint: 'Harry Potter support is crazy'
> Jason Isaacs: 'Harry Potter Deathly Hallows 2 a triumphant exit'
> 'Harry Potter' fever: Fans flood Trafalgar Square for world premiere
Watch
Digital Spy
ask the
Harry Potter
stars what is the secret to the boy wizard's success below: