25
Movies News
'Jurassic Park 4' in two or three years, says Spielberg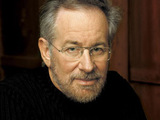 Steven Spielberg
has announced that
Jurassic Park 4
will hit cinemas in the next few years.
The legendary director confirmed during
the Tintin panel
at
Comic-Con 2011
that a story for the long-awaited dinosaur sequel is now in place.
"We have a story, I can happily announce right now," he said. "We have a writer... Hopefully, we'll be making
Jurassic Park 4
in the near future. In the next two or three years."
> Read our live blog of today's Comic-Con Tintin panel with Steven Spielberg
Watch the trailer for the original
Jurassic Park
(1993) below.
Jurassic Park 4
has been stuck in development since the project was first announced in 2002.
Reports that
Spielberg was working on the film's plot
emerged back in June, despite prior suggestions from
Jurassic Park star Sam Neill that a follow-up was "unlikely" to get made
.
Jurassic Park III
director Joe Johnston
previously claimed that the next sequel could set up a new trilogy
.
More from San Diego Comic-Con 2011:> 'Twilight: Breaking Dawn': Watch Comic-Con panel, interview footage> 'Prometheus': First look at Ridley Scott's 'Alien' prequel> Hugh Jackman confirms 'The Wolverine' enemy
> Comic-Con 2011: How to dress to impress - Video
> Robert Pattinson, Sarah Michelle Gellar, Justin Timberlake: Celebs at Comic-Con - PicturesDigital Spy
is bringing you exclusive videos, pictures and live panel blogs from Comic-Con all weekend -
view our full coverage of the event here
.
Watch the trailer for Steven Spielberg's
The Adventures of Tintin: The Secret of the Unicorn
below:
Jurassic Park is available on

Watch now