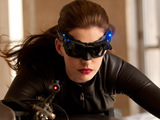 Anne Hathaway
is the latest actress to
take on the role of Batman's feline foe Catwoman
.
The Oscar-nominated actress follows on from the likes of Julie Newmar, Michelle Pfeiffer and Halle Berry to play the DC Comics character.
Hathaway will portray Selina Kyle - a cat burglar who faces off against Batman - in Christopher Nolan's
The Dark Knight Rises
.
The Dark Knight Rises
stars Christian Bale, Tom Hardy, Gary Oldman, Michael Caine, Morgan Freeman, Joseph Gordon-Levitt and Marion Cotillard and opens in cinemas on July 20, 2012.
More Batman coverage:
> Batman battles Bane on 'Dark Knight Rises' set - video
> 'Dark Knight Rises' Anne Hathaway on Catwoman: 'I'm sworn to secrecy'
> 'The Dark Knight Rises' may not be my last 'Batman', says Michael Caine
> Gary Oldman: 'Dark Knight Rises' come back to 'Batman Begins'
Move through our Catwoman gallery below: