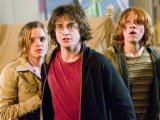 The roles of the young Mauraders in
Harry Potter and the Order of the Pheonix
have been cast.
James Walters is to be young Sirius Black, James Utchen will play a young Remus Lupin and Alec Hopkins will portray young Severus Snape according to
CBBC Newsround
.
Also Bellatrix Lestrange has apparently been recast as the actress who was to play the mad murderess, Helen McCrory, would have been "heavily pregnant" while shooting. Helena Bonham Carter has been chosen as her replacement.
Care of Magical Creatures Professor Grubbly-Plank will be portrayed by 25-year stage veteran Apple Brook. Finally, Jason Piper will play Bane the Centaur.