1
Movies News
Samuel L Jackson joins cast of Quentin Tarantino's 'Django Unchained'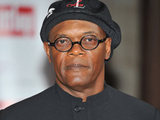 Samuel L Jackson
has joined the cast of Quentin Tarantino's
Django Unchained
.
The actor's publicist has confirmed that Jackson will play a slave called Stephen in the movie,
Variety
reports.
The
Pulp Fiction
star will reunite with the film's director for the fifth time. Jackson has also appeared in Tarantino's
Jackie Brown
and
Kill Bill Vol 2
, in addition to an uncredited role as a narrator in
Inglourious Basterds
.
Django Unchained is a spaghetti western
thought to be inspired by Sergio Corbucci's 1966 film
Django
.
Jamie Foxx is now confirmed
in the lead role of freed slave Django after speculation that Will Smith or Idris Elba could secure the part.
Leonardo DiCaprio will reportedly play Calvin Candie, a villainous plantation owner
who holds Django's wife in his service.
Christoph Waltz
- who
won an Academy Award
for his role in
Inglourious Basterds
- is also rumoured to be part of the cast.
Django Unchained is due to be released on Christmas Day 2012
.
Watch the trailer for
Inglourious Basterds
below:
Django Unchained is available on

Watch now