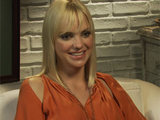 Anna Faris has confessed that she lacks self-confidence about her sexuality.
The
What's Your Number?
star revealed at a recent New York City screening of the film that she has little in common with her alter ego, a woman who sleeps with many different men before finding Mister Right.
"I'm not a very good lover. I'm so nervous about my sexuality," Faris explained.
She went on to reveal that she had not experienced many relationships before meeting husband
Chris Pratt
.
"I'm at five," she said, referring to her number of sexual partners. "Don't you think five is kind of low? I'm 34!"
Faris recently
revealed that she loved being able to 'be the guy' in What's Your Number?
The comedy actress was
recently confirmed as the host for the October 15 episode of Saturday Night Live
.
> Anna Faris: 'I want to work with Steve Coogan'
Watch
Digital Spy
's interview with Anna Faris below: