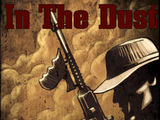 In the Dust
will be adapted into a movie.
Solipsist Films
has acquired the rights to the forthcoming graphic novel from Top Cow Productions, according to
The Hollywood Reporter
.
George Mahaffey and Christian Duce's story is set in the 1930s, when the American Midwest was plagued with 'black blizzards' - huge dust storms that blotted out the sun.
In the Dust
stars a special agent who discovers that mysterious disappearances are the work of vampires using the dust cloud as cover to move about during the day. He is forced to team up with the remnants of Al Capone's gang to protect Chicago from an invasion of the undead.
Mahaffey will write the adaptation, which is being executive produced by comics veteran Marc Silvestri. Solipsist Films'
Stephen L'Heureux
and Top Cow's Matt Hawkins will produce
In the Dust
.
L'Heureux recently worked on vampire thriller
Undying Love
- another comic book adaptation - and is producing Robert Rodriguez and Frank Miller's
Sin City
sequel
A Dame to Kill For
.
The
In the Dust
graphic novel is due out in 2012.