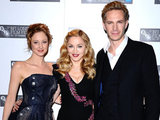 Madonna
was booed by fans at the
BFI London Film Festival
premiere of her new movie
W.E.
The music icon, who co-wrote and directed the romantic drama, upset fans when she walked straight into the screening at Leicester Square's Empire cinemas after only conducting select interviews and speaking to few waiting fans.
W.E.
plays out over two timelines to show the affair between King Edward VIII and Wallis Simpson and a contemporary romance between a married woman and a Russian security guard.
"I think it's just fascinating to try and understand the nature of their relationship and why a man of that power would give up his throne for her," Madonna told
Sky News
.
Andrea Riseborough, James D'Arcy, Abbie Cornish, Oscar Isaac, Katie McGrath, Richard Coyle and Laurence Fox star in
W.E.
Critics were
sharply divided on the movie after its world premiere in September at the Venice Film Festival
.
W.E.
opens in the UK on January 20 and in the US on December 9.
> W.E. UK premiere: 'Madonna was true to her own vision' - video
> London Film Festival 2011: Our top ten picks
View
Digital Spy
's
W.E.
picture gallery below: