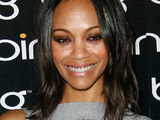 Zoe Saldana
has said that she is very excited about JJ Abrams's upcoming
Star Trek
sequel.
The actress will reprise her role of Nyota Uhura in the
Star Trek
sequel, which will reportedly begin filming in early 2012, according to
Access Hollywood
.
Saldana said that she is sure Abrams's follow-up to the 2009 blockbuster will be "amazing", adding: "We still haven't gotten a script yet. We're very excited to read it and get back into space."
The star went on to say that she hopes the sequel will explore Uhura's budding romance with Spock (Zachary Quinto).
"I'm really curious [about their relationship] and I'm pretty sure that Zach is as well," Saldana explained.
In September, Abrams officially announced that
he plans to direct the next Star Trek instalment
.
> Zachary Quinto: 'Spock's love life could fall apart in Star Trek 2'
> William Shatner: 'Star Trek is better than Star Wars' - video
Watch the trailer for
Star Trek
below: