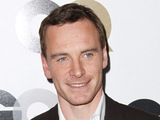 Michael Fassbender
has said that
Prometheus
is linked to
Alien
.
The
Shame
star revealed that the upcoming sci-fi film from director Ridley Scott will feature recognisable "creatures" from the 1979 movie.
"There's definitely a link to
Alien
," Fassbender told
Entertainment Weekly
.
"There's creatures in it that you'll recognise, but that's only one tiny facet of what's going on," he added. "I think I should leave it at that."
> 'Prometheus': First look at Ridley Scott's 'Alien' prequel
In October,
Prometheus
star Rafe Spall revealed that Scott
employed security guards to patrol the set
of the forthcoming
Alien
prequel.
Screenwriter Damon Lindelof
said that Fassbender will be portraying a robot
in
Prometheus
.
Scott
praised the use of 3D in filmmaking while attending the 2011 Comic-Con
, saying that he will never work without the format again.
Prometheus
opens on June 1, 2012 in the UK and on June 8, 2012 in the US.