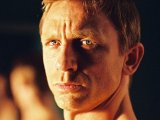 Daniel Craig has defended his commitment to James Bond and asked fans to stop abusing him.
The actor says he is affected by the level of criticism he has received in the run-up to
Casino Royale
.
"If I went on to the internet and started looking at what some people were saying about me, it would drive me insane," he said. "They hate me, they don't think I'm right for the role but I wish they'd reserve judgment.
"I watched every single Bond movie three or four times, taking everything I could about how the character had been portrayed in the past."
But the 38-year-old said he would not bow to pressure from the traditionalists. "There's no point in making this movie unless it's different," he argued. "It'd be a waste of time unless we took Bond to a place he'd never been before."