0
Movies News
'War Horse' fights off 'Haywire' at UK box office - top 10 in full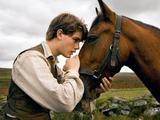 Steven Spielberg
's
War Horse
has held off competition from
Haywire
and
Underworld: Awakening
to top the UK box office.
The World War I drama, which stars Jeremy Irvine, Tom Hiddleston and Benedict Cumberbatch, pulls in £3.2 million in ticket sales to secure the number one spot for the second consecutive weekend.
Action movies
Haywire
and
Underworld: Awakening
battled it out for second place, with Steven Soderbergh's espionage film taking £1.19 million against £1.11 million for Kate Beckinsale's vampire sequel.
Sherlock Holmes: A Game of Shadows
and Meryl Streep's
The Iron Lady
complete the top five.
Jonah Hill comedy
The Sitter
debuts at number six with £910,382 from 355 screens.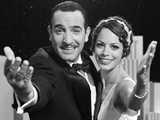 Oscar-tipped black and white film
The Artist
continues its impressive run in the UK. Michel Hazanavicius's ode to silent cinema boosts its box office takings from last week to bag £770,403 in ticket sales.
The Artist
has now earned more than £3 million from UK cinemagoers.
Elsewhere, Clint Eastwood's
J. Edgar
and
W.E.
fail to dent the top ten as they debut at numbers 12 and 14 respectively. The latter, Madonna's first major film as a director, grosses £182,914 from 172 screens.
The UK box office top ten in full:
1.
(1)
War Horse
- £3,202,493
2.
(-)
Haywire
- £1,197,866
3.
(-)
Underworld: Awakening
- £1,114,327
4.
(3)
Sherlock Holmes: A Game of Shadows
- £956,434
5.
(2)
The Iron Lady
- £949,517
6.
(-)
The Sitter
- £910,382
7.
(4)
Mission: Impossible - Ghost Protocol
- £815,330
8.
(7)
The Artist
- £770,403
9.
(8)
Alvin and the Chipmunks: Chipwrecked
- £568,758
10.
(9)
Puss in Boots
- £568,590
Watch Hollywood stars reveal their favourite film from
War Horse
director Steven Spielberg below: