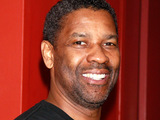 Denzel Washington
has revealed that he loves playing villains.
The actor is primarily known for his acclaimed portrayal of real-life figures like Malcolm X and Steve Biko and fictional action heroes, but recently said that he finds villains much more enjoyable.
Washington told
ET Online
: "It's cliché to say, but bad guys have more fun. You can get away with more."
He went on to say: "In playing a real character who's heroic, you're kind of stuck. There's only so much you can get away with. But [the] bad guy can say anything."
It was recently reported that
Washington may star in a feature film adaptation of 1980s television shown The Equalizer
.
Washington co-stars with Ryan Reynolds in the thriller
Safe House
, opening on February 10 in the US and February 24 in the UK.
> Denzel Washington donates $2.25m to university
> Denzel Washington to lead The Secret in Their Eyes remake
Watch a trailer for
Safe House
below: