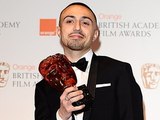 Adam Deacon
has spoken out over criticism from certain BAFTA viewers following his 'Rising Star' win.
The
Adulthood
actor, who
won the gong
at this month's awards ceremony, revealed that he was criticised by "middle-class" tweeters.
Deacon, 28, told the
Hackney Citizen
: "After I won it, there were a lot of middle-class messages on Twitter from middle-class people saying, 'Who is this chav? I smell a rat here, the BAFTAs trying to look cool for young people!'
"What they didn't realise was that there's a lot of love for me out there on the street, you know?"
Meanwhile, the rapper claimed that some casting directors reject him for being "too street".
"Casting directors would tell me they wanted a street kid from an estate but their response was that I was 'too street'," he added.
"My accent was too strong. I was too scary. And I found I was taken back a step. I was having to work even harder to prove I wasn't a thug than when I first started."
Deacon's next role is in football film
Payback Season
, which will be released later this year.
> Adam Deacon: 'I hope David Cameron puts his money where his mouth is'
Watch the trailer for
Payback Season
below: