0
Movies News
'The Town' writer Peter Craig to pen 'Top Gun 2'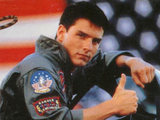 Peter Craig
has been hired to write
Top Gun 2
.
The scribe, who previously penned the screenplay for
The Town
with Ben Affleck, will start from scratch on the highly-anticipated project,
Variety
reports.
X-Men: First Class writers Ashley Miller and Zack Stentz were reportedly commissioned to write Top Gun 2 last year
, but it is believed that they had not in fact started work on the movie.
Original star Tom Cruise and
director Tony Scott will likely be involved
in the sequel.
In December 2011, Cruise
suggested that he would have "fun"
starring in a
Top Gun
sequel.
The actor previously hinted late last year that
a Top Gun sequel was in the works
, adding that he would be happy to star in the film if the plot is right.
> 'Top Gun' to get 3D cinema re-release?
Watch the original
Top Gun
trailer below:
The Town is available on

Watch now