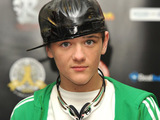 George Sampson has revealed that he had to be rushed to A&E after a dance move went wrong.
The actor was filming a stunt for the upcoming
StreetDance 2
when he accidentally hit the floor and cut his chin.
"I did a flip, I was supposed to do a full spin, but I landed on my face and cut my chin," he told
BBC Breakfast
.
"I had to go to A&E and have stitches."
Sampson returns as Eddie in the movie sequel, in which he teams up with street dancer Ash (
Falk Hentschel
) to start up a new crew.
He added of his character: "He's grown up a bit, in the first movie he was someone who wanted to be in charge, in this this one he's the manager."
Tom Conti also stars in the film as Manu, a club owner and former salsa dancer.
When asked if Conti dances in the film, Hentschel revealed: "He dances, yes. He does do street dance [in a sense], as all salsa elements come from the street originally."
StreetDance 3D
took in £12 million at the UK box office in 2010, outperforming the Jake Gyllenhaal-led Disney blockbuster
Prince of Persia
.
StreetDance 2
will open in UK cinemas on Friday, March 30.
> George Sampson, Robson Green join Mount Pleasant series two
Watch the trailer for
StreetDance 2
below: