0
Movies News
'The Hunger Games' tops US box office again with $61m - top ten in full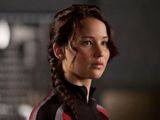 The Hunger Games
has come out on top for the second week in a row at the US box office with $61 million.
Two new films made their theatrical releases this weekend, but failed to knock the adaptation of the Suzanne Collins young adult novel from the number one spot.
Sam Worthington
's
Wrath of the Titans
, the follow up to 2010's
Clash of the Titans
, debuted at second place with $34 million, while Julia Roberts's
Snow White
story
Mirror Mirror
came in third with $19 million.
Last weekend,
The Hunger Games
debuted with $155 million
, making history as the third biggest movie debut of all time.
The
21 Jump Street
remake, starring Channing Tatum and Jonah Hill, fell from second place to number four with $15 million, bumping Disney's big-budget movie
John Carter
to the number six spot with $2 million.
Zac Efron and Taylor Swift's
Dr. Seuss' The Lorax
rounds out the top five with $8 million.
Salmon Fishing in the Yemen
saw a huge improvement as it went from number 16 to one of the top ten films this weekend with $1.274 million.
The film, which stars Ewan McGregor and Emily Blunt, tells the story of fisheries expert Fred Jones (McGregor), who introduces salmon into the waterways of Yemen for the purposes of sport fishing.
The US box office top ten in full (studio estimates):
1.
(1)
The Hunger Games
- $61,100,000
2.
(-)
Wrath of the Titans
- $34,200,000
3.
(-)
Mirror Mirror
- $19,000,000
4.
(2)
21 Jump Street
- $15,000,000
5.
(3) Dr. Seuss' The Lorax - $8,000,000
6.
(4)
John Carter
- $2,005,000
7.
(16) Salmon Fishing in the Yemen - $1,274,000
8.
(5) Act of Valor - $1,006,000
9.
(6) A Thousand Words - $915,000
10.
(10)
Journey 2: The Mysterious Island
- $835,000
Watch the trailer for
The Hunger Games
below: