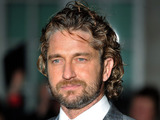 Gerard Butler
is in talks for
Manhunt
.
The
Coriolanus
star is in advanced negotiations for the Breck Eisner-directed action thriller, according to
Deadline
.
Written by
Iron Man
team Mark Fergus and Hawk Ostby, the film centres around a group of FBI agents pursuing domestic terrorist James Tollan through the North Carolina wilderness.
A reluctant bear hunter is recruited to aid their hunt, but the tables are soon turned and the agents find that they are now the hunted.
It is unclear whether Butler is in talks for the role of Tollan or the bear hunter.
The actor has recently had his name linked to a series of films including Albert Hughes's
Motor City
,
Olympus Has Fallen
and
Afterburn
.
Butler has also reportedly
replaced Eric Bana in Robert Luketic's diamond heist thriller Brilliant
.
> Gerard Butler: 'I'm feeling good since rehab'
> Will Ferrell, Gerard Butler join Robbie Williams's Soccer Aid 2012
Watch Gerard Butler in the trailer for
Machine Gun Preacher
below: