The Dictator
has topped the Australian box office on its first week of release.
Sacha Baron Cohen
's comedy grossed over AU $5 million over the weekend, ending
The Avengers
' three-week reign at the top of the charts.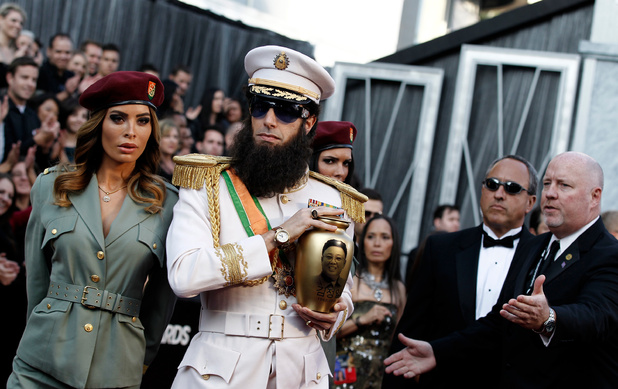 The Dictator
is one of two new entries in the top ten, with Daniel Radcliffe's horror film
The Woman in Black
debuting in fifth place.
Baron Cohen has been touring the world in character as Admiral General Aladeen to promote the movie and
appeared on Nine Network breakfast show Today at the start of the month
, accusing the show's hosts of conducting affairs with Colonel Gaddafi and each other.
He also poked fun at public figures including Mel Gibson and Australian prime minister Julia Gillard during his interview.
The Australian box office top ten for the weekend of May 17 to May 20 in full (All takings shown in Australian dollars):
1.
(-)
The Dictator
- $5,094,480
2.
(1)
The Avengers
- $3,513,268
3.
(2)
Dark Shadows
- $2,189,936
4.
(3) The Five-Year Engagement - $748,656
5.
(-)
The Woman In Black
- $375,587
6.
(4)
The Best Exotic Marigold Hotel
- $281,879
7.
(5)
Safe
- $253,250
8.
(7)
Salmon Fishing in the Yemen
- $253,250
9.
(11) The Way - $132,557
10.
(10) Wish You Were Here - $124,328
Watch Sacha Baron Cohen in character as Admiral General Aladeen at the Cannes Film Festival below: