Movies News
The Killers on 'Spider-Man 3' soundtrack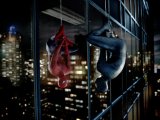 The Killers are to appear on the soundtrack for this summer's blockbuster,
Spider-Man 3
.
Also appearing on the soundtrack are Snow Patrol, The Flaming Lips, Rogue Waves, The Walkmen and The Yeah Yeah Yeahs.
All the contributions are new compositions, and are produced by Dave Sardy.
The album,
Spider-Man 3: The Official Soundtrack
will be released in early May.
The full album listing is as follows:
1.
Snow Patrol - 'Signal Fire'
2.
The Killers - 'Move Away'
3.
Yeah Yeah Yeahs - 'Sealings'
4.
Wolfmother - 'Pleased to Meet You'
5.
The Walkmen - 'Red River'
6.
Black Mountain - 'Stay Free'
7.
The Flaming Lips - 'Spider-Man vs. Muhammad Ali'
8.
Simon Dawes - 'Scared of Myself'
9.
Chubby Checker - 'The Twist'
10.
Rogue Wave - 'Sight Lines'
11.
Coconut Records - 'Summer Day'
12.
Jet - 'Falling Star'
13.
Sounds Under Radio - 'Portrait of a Summer Thief'
14.
Wasted Youth Orchestra - 'A Letter to St. Jude'
15.
The Oohlas - 'Small Parts'