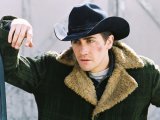 The family of a girl who was shown
Brokeback Mountain
at school is suing the education authority.
They say Jessica Turner, 12, was emotionally damaged by watching the movie, about two bisexual cowboys, and are claiming $400,000 (£202,000) in damages.
The claim alleges negligence, false imprisonment and intentional infliction of emotional distress. Turner's family say she felt she could not leave her Ashburn Community Elementary School class and still needs counselling for the experience.
Papers filed by the Turners also say Ms Buford, a stand-in teacher, introduced the film by telling pupils: "What happens in Ms Buford's class stays in Ms Buford's class."