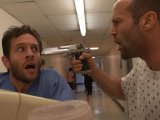 Jason Statham has signed up to make a sequel to his 2006 thriller,
Crank
.
The actor will reprise his role as hitman Chev Chelios for
Crank 2: High Voltage
, and will this time go after a Chinese mob man who replaces his almost indestructible heart with a battery-powered ticker that requires electricity jolts to run.
Writer/directors Mark Neveldine and Brian Taylor will also be back on board for the second movie, while Lionsgate will again distribute it.
The first
Crank
film cost £6 million to produce and grossed £22 million at the box office.