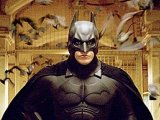 Michael Caine has said that Heath Ledger's depiction of The Joker in the new Batman movie is "stunning".
Caine explained that he was concerned originally that Ledger wouldn't be able to match Jack Nicholson's performance in the 1989
Batman
film, but insists that he has now been won over.
He told
Empire
: "Now, we have had Jack Nicholson, who is one of the greatest Jokers and one of the greatest characters in this kind of movie.
"I have worked with Jack and I know him really well. You do not really want to follow Jack into anything. Unless it's a nightclub...Heath Ledger stunned me.
"Jack played The Joker as sort of a benign nasty clown - like a wicked uncle. Heath plays him like an absolutely maniacal murderous psychopath. You have never seen anything like it in your life.
"He is very, very scary. I turn up every month or so and do a couple of bits then go back to London. I had to do this bit where Batman and I watch a video which The Joker sends to threaten us.
"So I'd never seen him, and then he came on the television in the first rehearsal and I completely forgot my lines. I flipped, because it was so stunning, it was quite amazing. Wait until you see it, it's incredible."
Talking about his take on the character, Ledger said: " He's just an absolute sociopath, a cold-blooded, mass-murdering clown, and Chris [Nolan] has just given me free rein.
"Which is fun because there's no real boundaries to what the Joker would say or do. Nothing intimidates him, and everything is a big joke. I think we all have that in us."