Movies News
Englund out of 'Elm Street' remake?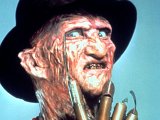 Robert Englund will not play Freddy Krueger in the new
Nightmare on Elm Street
movie, reports say.
It was
revealed
last week that New Line is in talks with Michael Bay, Brad Fuller and Andrew Form of Platinum Dunes to revamp the Wes Craven classic.
However,
ShockTillYouDrop
reports that none of the discussions about the new film have involved Englund reprising his role as the razor-fingered child killer.
The 58-year-old played Krueger in the original 1984 film and seven sequels.