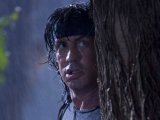 Sylvester Stallone has revealed he regrets the way his 1995 comic book film
Judge Dredd
was handled.
Speaking at a press conference to promote
Rambo
, the actor said: "I think the biggest mistake I ever made was with the sloppy handling of
Judge Dredd
.
"I thought that could have been a fantastic, nihilistic, interesting vision of the future - judge, jury and executioner. That [film] really bothered me a great deal."
The actor also admitted he would like to re-visit another of his '80s action films.
"I think
Cobra
could have been kind of interesting on a certain level only because I always saw him as Bruce Springsteen with a badge! That character would've been nice to go back to," he said.
Stallone added that he wouldn't mind going to see if Sheriff Freddy Heflin, the character he played in James Mangold's
Cop Land
, "lived happily ever after".