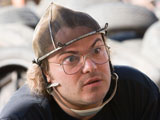 Jack Black
has denied speculation that he will one day play late comic John Belushi in a biopic.
The actor has been likened to Belushi in the past but said he believes the common practice of comedians playing other comedians is doomed to failure.
He told Canadian newspaper
The St Catherine's Standard
: "[Belushi's] life is not as funny as his work, and watching me do an imitation of him doing his
Saturday Night Live
bits won't be as funny as watching him do his
SNL
bits."
He added that a biopic would fall into the same trap as Jim Carrey's portrayal of comic Andy Kaufman in 1999 movie
Man On The Moon
, saying: "Just because the guy is an amazing and compelling artist doesn't mean that telling his story is going to be interesting to watch."
John Belushi died from an overdose of cocaine and heroin in 1982 at the age of 33.
>
Read our review of Black's latest movie Be Kind Rewind