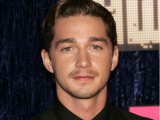 Shia LaBeouf
is nervous about starring in
Indiana Jones and the Kingdom of the Crystal Skull
because he fears critics will slate his performance.
The 21-year-old, who plays Mutt Williams in the eagerly anticipated fourth film in the franchise, admitted he felt intimidated by expectations surrounding the film.
Speaking to
Empire
, LaBeouf said: "It was terrifying to join this franchise. Everything you imagine it is, is exactly what it is. You don't want to be the addition who ruined everything. And you know there's going to be so much critique, that it can be quite daunting."
The actor added that he was put at ease on set by Harrison Ford.
"Harrison always used to say before every take, 'Alright, let's shoot this piece of s**t.' It was his way of alleviating the pressure. Another hats-off thing about Harrison is that he's the troop leader - he's General Patton; the guy leading the surge. When you're around him, you don't feel that pressure."
Indiana Jones and the Kingdom of the Crystal Skull
opens worldwide on May 22.