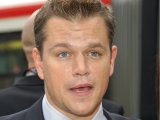 Matt Damon
will play rugby star Francois Pienaar in Clint Eastwood's new movie
Human Factor
.
The film, which also stars Morgan Freeman, is based on a book by John Carlin about post-apartheid South Africa, reports
Variety
.
Pienaar is credited with working alongside Nelson Mandela in creating an event that black and white South Africans could unite behind and support.
The pair formed a strong relationship when South Africa hosted the Rugby World Cup in 1995.
The movie will begin shooting in South Africa in early 2009.
> Gay Spy Picture Special: Action Men