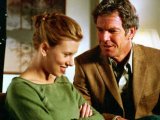 With
In Good Company
, Paul Weitz delivers a candid look at the cut-throat world of commerce and workplace politics with a love story thrown in.
Topher Grace plays Carter Duryea, a 26-year-old up-and-coming marketing hotshot whose work in creating mobile phones for kids leads him to greater things when he is promoted to advertising manager for the very popular Sports America magazine. Grace's appointment spells demotion for Dan Foreman (Dennis Quaid), a 51-year-old company veteran who has served for 20 years. Dan receives a further shock when his middle-aged wife unexpectedly announces that she is pregnant with their third child. As if this weren't enough for the man, his daughter Alex (Scarlett Johansson) starts dating his new boss, who is young enough to be his son.
The movie is honoured with brilliant performances, script and direction, all of which provide a refreshingly down-to-earth and (mostly) realistic satirical comedy drama. Although giving a general feel-good vibe, it pulls few punches towards its characters, who are caught up in the merciless corporate life many will recognise. Employees are made redundant after years of service simply because their salary is an inconvenience and there are seldom hints that they live happily ever after.
Equally, the movie demands respect for the fact that the Carter/Alex relationship is not a match made in heaven and does not leave them walking into the sunset together which would have been the predictable outcome. However, Carter's decisions about his future at the end of the movie were not so impressive. While it is unpredictable, it is also unbelievable.
Despite the previews leading me to believe that I was going to see a romantic comedy, it was a pleasant surprise to find that the most captivating relationship in the movie is that between Grace and Quaid. Excellent performances from them both steal the show; the interest is squarely focussed on the interaction between the ousted boss and his replacement. In fact, while Grace and Johansson do perfectly well with their romantic storyline, the love story side of the film is very much a secondary part of the whole.
Aside from the unconvincing, if uplifting, ending and a perhaps out-of-place noble speech by Quaid against big business practice, there is little to find at fault with this movie.
In Good Company
is worth seeing for its compelling plot - helped along by some sharp humour - and for the chemistry between Quaid and Grace, though those looking for a romantic comedy may be disappointed.