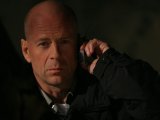 Florent Emilio Siri's
Hostage
showcases Bruce Willis' action hero persona from the
Die Hard
days, mixed with the more emotive acting from the M. Night Shyamalan movies in a thoroughly enjoyable, if clichéd, thriller.
Willis plays Jeff Talley, a former LA hostage negotiator who quits after a hostage situation goes horribly wrong. With blood on his hands, Talley becomes the police chief in an ordinarily sleepy town. However, things get a lot more exciting for the police department when three youths, aiming to steal the car of dodgy accountant Walter Smith (Kevin Pollack), end up taking the Smith family hostage.
Willis' negotiation efforts become even more interesting when he is approached by a shadowy group who have kidnapped his family and need him to help retrieve a DVD from the high-security house. He must now risk the safety of the Smith family to try to save his own.
Acting from all parties is pretty much flawless (despite Jonathan Tucker's rather OTT portrayal of one of the thugs), which is what makes this film as enjoyable as it is, as there is little particularly original. Siri obviously found the temptation of making use of Willis' back catalogue too great to deny. Our bald-headed hero ends up wandering through a mansion shooting thugs in a manner that we've come to expect. While this may be predictable and unoriginal, if you liked him doing it in
Die Hard
, then this movie will hardly disappoint. Willis brings Talley to life, and the movie would have been a lot worse off had a lesser actor taken the role.
As well as good acting, what makes the film stand out amongst its fellow action thrillers is a well-paced storyline, which is at the same time complex and easy to follow. Doug Richardson's screenplay of the Robert Crais novel maintains tension throughout, though it does ask us to overlook various loopholes. For instance, although Talley is relieved from command of the operation for most of the movie, those in charge seem to conveniently sit around twiddling their thumbs while Talley goes about his business before charging in when he happens to have got his act together.
Hostage
provides more than other action thrillers out there. It may not bring anything new to the genre, but it's a very competent addition to it, made all the better by some good acting and a well-paced plot.

Click here to view a trailer of the movie.