28
Movies Review
Percy Jackson And The Lightning Thief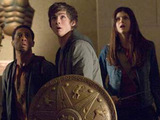 With the
Harry Potter
saga drawing to a close next year, what better time to introduce a brand new fantasy superhero to the big screen? Step forward
Percy Jackson And The Lightning Thief
, the first instalment in the children's book series by Rick Riordan, which sees its eponymous hero discovering that he's actually half God, half human. With a further four books in the saga, and the potential for a long-running film franchise, can
Percy Jackson
live up to the standards set by Mr Potter? The answer is yes. From the opening scenes of a 30-foot Greek God emerging from the sea in New York, to the nordic looking battle grounds of Camp Half Blood, to the fiery colour and terror of the Underworld,
Percy Jackson
sucks you in as the classic Greek myths are retold for the modern world.
Percy (Lerman) is an average kid living in New York City. He doesn't try too hard at school, copes with dyslexia and ADHD and doesn't have the best home life since his mother (Catherine Keener) remarried a useless slob (Joe Pantoliano). But what starts as a normal class trip to the museum turns out to change his life forever, as his quiet teacher transforms into a truly terrifying winged creature and demands that Percy return a stolen lightning bolt. Before he knows it, a confused Percy is being packed off to a secret camp for his own protection, where he discovers that his wheelchair-bound tutor Mr Brunner (
Pierce Brosnan
) is actually a centaur and his crippled best friend Grover (Brandon T. Jackson) is a Satyr tasked with protecting him.
It turns out that Percy is the son of Poseidon (Kevin McKidd), the God of the Sea, making him a very powerful demigod. Unfortunately, Poseidon's brother Zeus (Sean Bean) thinks that Percy has stolen his lightning rod, which has the potential to ignite a war between the Gods. Matters are further complicated when the evil Hades (Steve Coogan), God of the Underworld, kidnaps Percy's mother and demands ownership of the bolt himself. The only problem? Percy doesn't have the bolt and doesn't know where it is. Nevertheless, he decides to embark on a risky quest to the Underworld in a bid to resuce his mother, before trying to convince Zeus that he is telling the truth.
While the sequences at the surprisingly violent Camp Half Blood, where Percy learns to channel his powers, drag on for too long, his roadtrip across the States accompanied by Grover and Annabeth (Alexandra Daddario), the warrior daughter of Athena, is pure joy. Their mission takes them from the chill-inducing lair of Medusa (Thurman), to the hedonistic abandon of Las Vegas, and the glory of the Parthenon in Nashville as they battle against the clock to rescue Percy's mother, while delivering an assortment of Greek history lessons on the way. The brief detour to the Underworld is one of the movie's biggest highlights, with a campy Coogan draped in metallics and leather as Hades, while Rosario Dawson oozes sex appeal as the lustful and trapped Persephone. Big names like Brosnan, Bean and Thurman add plenty of gravitas to proceedings, while relative newcomer Logan Lerman shows he is definitely one to watch as he transforms Percy from bratty schoolkid to brave hero, shining in his battle sequences and displaying a knack for comedy.
Sure there are plot holes, and a heap of loose ends, not to mention the fact that no one bats an eyelid at the destruction of the Empire State Building, Parthenon etc. but that aside,
Percy Jackson
manages to make Greek mythology both fun and exciting and is sure to appeal to its key demographic. With Chris Columbus, the man responsible for breathing life into the first two
Harry Potter
movies, in the director's chair, we get exactly what we would expect. At the heart of its explosions, violence and awe inpsiring special effects, is a simple story about a boy's devotion to his mother and the importance of friends, which could give that other powerful hero a run for his money...

> What do you think of the movie? Share your views