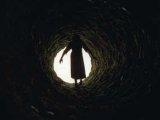 Director Hideo Nakata makes his Hollywood debut with this bewildering horror sequel.
The sequel to the US version of his own
Ringu
movies,
The Ring Two
continues the story of Rachel Keller (Naomi Watts) and her son Aidan (David Dorfman) six months after the events of
The Ring
.
Having escaped Seattle and the troubles with the ghostly Samara (the girl who pops out of TV sets), Rachel and Aidan have settled in the quiet town of Astoria, Oregon where Rachel has landed a job with the local newspaper. Inconveniently, the nasty videos from the first film have spread to Astoria too. When Rachel discovers this she burns the offending tape, only to find Samara on a campaign to possess Aidan.
Unfortunately for fans of the US original, after opening scenes of victims of the fateful video, the movie goes off on a silly tangent of spiritual possession and abandons the 'you will die in seven days' hook of the original. Fans of
Ringu 2
will be equally disappointed as this film shares very little with the original aside from its basic premise.
After finding
Ringu 2
difficult to follow, I had hoped that the Hollywood version would be less hard work, but unfortunately not. At several points the plot takes directions with no apparent rhyme or reason, increasingly departing from the premise of the original. The importance of the video tapes goes out the window when Rachel burns one of them (though surely there are plenty more in circulation to worry about in the meantime) and the audience is treated to ill-fitting and unexplained scenes such as where she and Aidan are harassed by a group of malevolent deer, which tragically is one of the best in the movie.
The acting from most parties is decidedly average. Watts does what she can, though she's given very little to work with, Simon Baker does a very unconvincing job as her co-worker David Rourke, whilst it's hard to say what Dorfman is trying to achieve as Aidan.
Despite its bad points, of which there are several,
The Ring Two
does at least fare adequately as a horror movie, yet the shocks given to the audience are hardly original and are those par for the course in the genre. The threat of infanticide by the child's mother had the potential to be a lot more chilling than it comes across, but unfortunately it is handled without commitment and is not given nearly enough attention.
The Ring Two
takes the franchise in an odd direction through a series of illogical turns and should be avoided by those wanting to keep the original untainted.