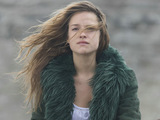 Colin Farrell
has a much more interesting filmography than many a leading man. The Dublin-born actor graduated to the blockbuster level long ago, picking up credits for movies like
Minority Report
and
Miami Vice
- not to mention his title role in Oliver Stone's
Alexander
. Despite that, he clearly still keeps an eye out for movies on the other end of the FX/budget spectrum, which led him to star in the wonderful sleeper hit
In Bruges
not so long ago. Nevertheless, it's still something of a surprise to find him here, leading a low-budget flick written/directed by his countryman Neil Jordan (
The Crying Game
,
The End of the Affair
). The reason for that is that the opening scenes of
Ondine
find ex-drunk fisherman Syracuse (Farrell) catching a woman who may or may not be a beautiful mermaid Ondine (Alicja Bachleda-Curuś) in a trawling net. Really.
It's not as daft as it sounds though, and despite the fairytale speculation essentially underpinning the plot, the film looks - and feels - like a relatively straight drama. Syracuse - dubbed Circus the Clown by locals because of his past drinking days - has given up the bottle to take better care of his daughter Annie (Alison Barry). He's forced to do so because his ex-partner (Maura) Dervla Kirwan shows no signs of cutting back on her own drinking. Annie suffers from kidney problems, and while Syracuse holds her hand during her dialysis, he tells her of his day's strange turn. She informs him that the woman is a Selkie (a sort of Celtic mermaid), and given some seemingly remarkable coincidences, he soon comes to believe her.
The coincidences and quirks pile up over the course of the film, and despite the strangeness of the central notion, it's easy to find yourself quickly hooked (ahem). Stephen Rea plays the priest Syracuse visits for confession in lieu of Alcoholics Anonymous, and the humour in those sequences make them among the best in the film. The interplay between Syracuse and Annie is also equal parts funny and sweet, especially when she describes his storytelling as "s**te" and ponders whether his latest update is "classic wish-fulfilment".
The film's strongest asset is the same as its greatest weakness though, as its shifts in feel and tone keep you interested but also feel a bit awkward. One scene finds Ondine, naked under her wet, clinging dress, emerging from the water to be confronted by Annie in her recently-acquired electric wheelchair. The clash of the woman's sensuality and child's Lewis Carroll-inspired inquisitiveness is a slightly uncomfortable one. Similarly, Annie's carefree humour is somewhat grounded by her mother's drinking and her own condition.
Nothing underlines these clashes more than a key sequence towards the end of the film, where the fairytale takes a turn for the dark. You could argue that such moments lend the movie a gritty authenticity to allow for its other excesses, but in truth it doesn't really need them. Along with the uniformly fine performances, what makes
Ondine
really worth the trip to your nearest arthouse cinema (because its unlikely that most multiplexes will shift aside one of their
Avatar
screens for it), is its wonderful charm, which it has in bucketloads.

> What do you think of the movie? Share your views