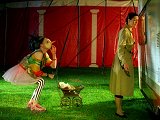 Director:
Dave McKean
Screenwriters:
Neil Gaiman, Dave McKean.
Starring:
Stephanie Leonidas, Jason Barry, Rob Brydon, Gina McKee
Running time:
101 mins
Certificate:
PG
Helena (Leonidas), a girl who works in her parents' (Brydon and McKee) circus throws a tantrum when her mother demands she perform and wishes her dead. Coincidentally her mother then falls ill. Wracked with guilt, Helena falls asleep and enters her dreamland. Once there she finds a two opposing kingdom, those of Light and Dark. The Queen of Light (her mother) is comatose and the Prime Minister (her father) explains that only if 'the charm' is found can the balance be restored. Stranded, Helena must discover the 'Mirrormask' in order to break free back into her own world.
Although Dave McKean and writer Neil Gaiman's story is primarily for children, its appeal is universal. Containing elements of Lewis Carroll's
Alice In Wonderland
as well as movies such as Jim Henson's
Labyrinth
and Bernard Rose's
Paperhouse
, it contains a compelling premise, an excellent atmosphere and humour to suit everyone.
Like both
Alice
and
Labyrinth
, Helena moves from locale to locale meeting weird and wonderful characters along the way, each with a riddle or piece of information to point her in the right direction to solving the puzzle. Although the idea of the basic plot is straightforward enough, the twists and imaginative, well-portrayed characters make it a joy to watch the story unfold.
The most distinctiveaspect of
Mirrormask
is its aesthetic. From the outset the atmosphere of the colourful yet grim circus backdrop is superb. The characters and scenery are very much McKean's graphic novel artwork, a sort of Picasso-Dali hybrid, brought to film and shot in front of a greenscreen. Although the visuals cease to seem that innovative before the movie's end, they are certainly one of the film's strongest points.
In summary,
Mirrormask
has something to keep everyone entertained. It has an interesting if familiar plot, an enthralling yet easy to follow script, and one of the most beautifully well-realised CG-created atmospheres to date.