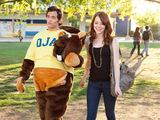 Despite impressing with prominent supporting roles in hits like
Superbad
,
Zombieland
and
The House Bunny
, young actress
Emma Stone
has only just landed her first lead role. She effortlessly carries the amiable high school comedy
Easy A
with her disarming yet sassy nature, complementing an impressive supporting cast that includes Thomas Haden Church, Stanley Tucci, Lisa Kudrow and the legendary droog Malcolm McDowell.
Stone tackles the role of loquacious squeaky-clean student Olive Penderghast, whose world is thrown into disarray when she falsely claims to her best friend that she recently lost her virginity. The rumour spreads around like wildfire, with the dullard-turned-supposed slut Olive attracting the attention of every horny young male in the vicinity, as well as the school's militant Christian sect led by the obnoxious Marianne (Amanda Bynes). Rather than spill the beans, Olive opts to expand the lie - which pleases plenty of her peers but fails to impress the headmaster (McDowell) and the young man she secretly yearns for. Can Olive prevent her life from being irreparably damaged and land her true beau?
Easy A
is peppered with amusing scenarios, particularly the lengths Olive goes to at a house party to convince the guests that she truly is a promiscuous girl. Dynamic yet unobtrusive direction from Will Gluck ensures that the movie never lags in pace, with one standout scene involving the rapid dissemination of the cherry-popping rumour around the school. It's not all a disposable barrel of laughs, as the tone takes a refreshing shift into darker territory.
The tainting of Olive as a pariah is wittily illustrated with numerous mentions of the similarly-themed
The Scarlet Letter
. Nathaniel Hawthorne's classic novel is lovingly referenced, while the ghastly Demi Moore movie version is wittily lampooned on numerous occasions. Furthermore,
Easy A
is packed full of homages to the '80s teen comedies by the legendary John Hughes, with Olive even mourning the fact that her life isn't directed by the late auteur.
Easy A
does falls slightly short of the consistent hilarity generated by the best of Hughes's canon, but the pathos is certainly present. The characters are written and portrayed with real warmth, with even Amanda Bynes's stuck-up antagonist revealing the vulnerability beneath her harsh exterior. As Olive's dad, Stanley Tucci does wonders in a small role that functions as comic relief without sacrificing any sense of being a fully-rounded and credible character.
However, the movie's main attraction is definitely Emma Stone, who is marvellous as the audience's gateway to the story. She's smart without being smug, and manages to be charming despite Olive's morally dubious actions. By the time the emotionally-charged ending comes around, complete with a rendition of a very iconic '80s song, you'll be sold on the fact that Stone has a glittering career as a leading lady ahead of her. Cross your fingers that she steers well clear of the Lindsay Lohan career plan...

> What do you think of the movie? Share your views