0
Movies Review
It's Kind Of A Funny Story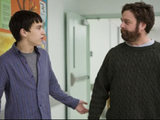 Anna Boden and Ryan Fleck leave behind the grittiness and realism of their first two pictures - the Oscar-nominated
Half Nelson
and baseball drama
Sugar
- and head for more commercial waters in this adaptation of Ned Vizzini's bestseller
It's Kind Of A Funny Story
. Keir Gilchrist takes on the role of Craig, a 16-year-old who checks himself into a mental hospital after vivid visions of plunging to his death from the Brooklyn Bridge. His chronic worrying amplifies the normal teen problems he's experiencing (girls, summer college applications), and inside he meets a kindred spirit in sweater-loving Bobby (a semi-serious
Zach Galifianakis
). "Why do you want to be in school in the summer? You should be on Coney Island bird-dogging chicks," is Bobby's initial assessment of his new pal.
As Craig embarks on his five-day stint inside he grows closer to Bobby and self-harmer Noelle (Emma Roberts), forming a sense of community amid all the psychiatric instability. There isn't the dark, foreboding atmosphere that lurks in Jack Nicholson's classic
One Flew Over The Cuckoo's Nest
, Boden and Fleck's tale is lighter, fluffier fare. Life is for living, is the film's overriding message. There are flashes of low-budget rebel spirit, but it's the grating quirky kind that the filmmakers so admirably kept out of their first two features. Swooping through 3D sketches of New York soundtracked to The xx and a spontaneous 'Under Pressure' rendition are just two instances where they get indulgently indie.
At its heart
Funny Story
is a comedy, so a deep psychological probing isn't a requirement, but Bobby's motivation for getting out (to see his daughter) is barely addressed and Craig's passivity and penchant for melodrama doesn't make him particularly engaging. For all its problems, though, the film is easy-going, frequently channels into a sweet-natured tone and is able to raise a few chuckles. Like Fleck and Boden's debut
Half Nelson
, it also has some cracking music supplied by Canadian rockers Broken Social Scene.

> What do you think of the movie? Share your views