2
Movies Review
You Again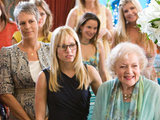 There's hardly one moment of surprise or originality in
You Again
, a for-all-ages Disney comedy about a woman who discovers that her older brother is marrying her high school nemesis. Director Andy Fickman uses a time capsule as a significant plot device, but
You Again
is a movie that should be placed in the ground as a snapshot of what the laziest in mainstream Hollywood comedies have become. Though not an eye-burningly terrible romp ala
Old Dogs
, it appears to function solely by wheeling out every storytelling cliché in the book, shamelessly exploiting nostalgia and presenting a succession of stunt cameos.
Kristen Bell
plays Marni, who's recovered from traumatic high school experiences to become a hotshot in the PR world. Cheerleader J.J. (Odette Yustman) was her tormentor-in-chief, so when it transpires that big brother Will (James Wolk) is engaged to the one-time bully - now going by Joanna - Marni must confront her past head on. The antagonism creeps up the generational ladder too, when it turns out Joanna's Aunt Ramona (Sigourney Weaver) and Marni's mother Gail (Jamie Lee Curtis) had a major falling out in their school days.
You Again
plays out exactly how you'd expect as burned bridges are rebuilt and old feuds are put aside. It preaches the importance of second chances, but this isn't a comedy you'll be rushing to revisit.
Sigourney Weaver is by far the best thing about the movie, gleefully chewing scenery and having fun with a role that's not too dissimilar to her
Working Girl
office bitch Katharine Parker. Her millionaire hotelier breezes through the frame, flitting between languages as her sunny disposition artificially masks a mean streak. Jamie Lee Curtis takes a brave swing at her part as the tightly-wound matriarch, but a trampoline mishap and plumbing accidents mean that she doesn't emerge with dignity completely intact.
There are chuckles whenever Ramona is on screen, but the rest of the comedy seems to derive from throwing in a familiar face to surprise the audience. These range from the obvious (Betty White as 'The Grandma') to the sublime (Dwayne Johnson waxing lyrical about "emotional terrorists") and ridiculous (Patrick Duffy). Betty White completists will appreciate the last-minute appearance from an old
Mary Tyler Moore
show rival, while an '80s pop duo bring down the curtain in suitably cheesy fashion. There isn't much wit or substance to these cameos, the reaction is more one of, 'Oh, look who's turned up now!'
Chock full of story contrivances and painful slapstick galore,
You Again
tediously cruises by with only Weaver's presence keeping things interesting. It's a shame because a great cast has been left stranded in a script that adamantly refuses to do anything inventive with its premise.

> What do you think of the movie? Share your views