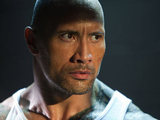 Revenge, as the old proverb goes, is a dish best served cold. That's a saying clearly taken to heart by
Dwayne Johnson
's unnamed Driver in
Faster
. On leaving jail after serving ten years for his part in an armed robbery, he sets out on a mission to serve fatal retribution on those who put him there. On his tail is a similarly-unnamed junkie Cop (Billy Bob Thornton) as well as a hired Killer (Oliver Jackson-Cohen) out to stop him closing his bloody vendetta. After their first encounter, Jackson-Cohen's Killer waxes lyrical about his new foe to his lover Lily (Maggie Grace). His target ain't in the least bit classy, Killer swoons, but my god he's got that brute simplicity thing going on. While that description also neatly fits
Faster
as a whole, that simple force doesn't give the hokey script enough horse power to speed it over the line.
Early on there's enough quick-moving action to keep things enjoyable. Driver's super-fast, ultra-simplistic dispatching of victim #1 provokes a genuine shimmer of surprise and (an admittedly guilty) visceral thrill. From then on, though, we struggle through the flimsy backstory and twiddlings of our three morally ambiguous leads. Sure, there's a good-enough movie to be made of Driver's single-minded vengeance quest... of Cop's journey back from the edge... and of Killer's amoral kill-for-kicks outlook. But our threesome just don't have enough depth between them to head the picture.
The supporting female cast don't get much of a look in, being more obvious cardboard cut-outs than even their nameless male counterparts. Lily is gorgeous, smart, witty and still oh-so dependent on her squillionaire assassin boyfriend. Cicero (Carla Gugino) does that by-the-book, scrubs-up-very-well superior policewoman thing. Driver's ex Marina (Moon Bloodgood) gets precious little screentime and is just there for The Rock to bounce off of in a couple of crass throwaway scenes in the middle.
Sure, there's plenty of people getting shot in the head, the odd bit of nasty slicing, and the most tedious ice-pick-stabbing scene since a naked Sharon Stone writhed all over the place in
Basic Instinct
. There's also a teensie-weensie bit of wit sprinkled all-too sparingly over the movie. (Driver uttering "You've got issues" to his opponent at one point is a rare highlight). There's an ironic knowingness in how contrived this all is; one of Driver's hitlist is caught midway through a sexual assault... Billy Bob's Cop is ten days from retirement.
Really
. But while the film acknowledges how daft it is, it doesn't even try to play with those conventions or have any real fun with them. As it is, by the time the gear-grinding, seen-it-before plot twists come in the final reels you'll be too bored to really care. If this was a tiny bit smarter (think
Desperado
, or even
Kill Bill Vol. 1
) or a whole lot dumber (
Machete
), it would be so much nearer to hitting its target.