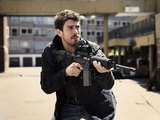 An impressive performance by
Toby Kebbell
as the titular British army veteran fails to provide sufficient redemption for the overly contrived plotting and naïve characterisation surrounding it. Low on thrills and intrigue, but high on social commentary painfully shoehorned into the narrative,
The Veteran
undoubtedly has noble intentions at its core. A stinker of a script and clumsy execution simply serve to thwart them.
Suffering from post-traumatic stress disorder following a harrowing stint in Afghanistan, former paramilitary Robert (Kebbell) finds it hard to reintegrate back into civilian life. It hardly helps that he lives in a squalid, crime-ridden council estate that appears to have been borne from the imagination of a
Daily Mail
reporter - with almost every young resident representing some manifestation of drug/hate induced menace. Young Robert is soon lured into working for a shady secret service, run by the masterful Brian Cox, and becomes embroiled in a mission to rescue an undercover agent who might have swapped allegiances. This all predictably leads to a climactic shootout after the mandatory (and unsurprising) revelations have been unveiled.
As a character study,
The Veteran
lacks the sufficient psychological complexity to be effective. The script is so 'by the numbers' that every fourth scene or so involves Robert staring at himself in the mirror, mentally and physically beating himself up over his past. This frequent flagging up of his inner torment to the audience is all so unorganic, with no subtlety whatsoever. The sole purpose of these repeated scenes is to remind the audience of what we already know, lest we forget due to all the dull sequences in between. Thankfully Kebbell, with his gaunt eyes and shellshocked demeanour, is compelling to watch.
The supporting characters are generally thematic functions, deployed as mouthpieces to hammer home various agendas about the war in Afghanistan and the current social decay in Britain. These agendas are so explicit - and the resulting dialogue so unreal and forced - that it scuppers a great deal of the movie's authentic pretensions. Nonetheless, Ashley Thomas manages to transcend the trappings of naïve characterisation as the estate's chief drug dealer, while Tony Curran injects a sense of urgency into proceedings as Robert's dodgy boss. Many others are left floundering though - casualties of the botched production. Frustratingly, Brian Cox only receives a few minutes of screen time.
There is little wrong with Matthew Hope's direction, which is at its best during a bullet-strewn finale that provides a flicker of excitement - heightened by the knowledge that the end credits are lurking nearby. Ultimately,
The Veteran
feels like a pointless exercise. It's a poorly constructed British 'thriller' that laboriously spells everything out to the viewer and trots out a hackneyed plot that has been peddled out many times before.