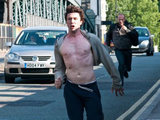 The omens were not good. A
Jason Statham
starrer entitled
Blitz
makes one expect another one of his explosion-filled, low concept, punch-up flicks punctuated by a raspy narration from the man himself. Yet these expectations are confounded by the actual entity - a crime movie that veers between thrilling and hilarious with narrative echoes of the supreme television series
Cracker
and tonal shades of the blasé one-liners that propped up
Lock, Stock and Two Smoking Barrels
.
Perfect use is made of Statham's gruff demeanour and hitherto underexploited comic timing as the distinctly un-PC detective Brant in this adaptation of Ken Bruen's novel. We first encounter him in the opening scene emerging from his booze-soaked flat to beat up a group of wannabe carjackers. Brant's brawny brand of policing is soon let loose on a cop-killer, played with animalistic intensity by the superb Aidan Gillen, who dubs himself 'The Blitz' and tips off dodgy tabloid hack Harold Dunlop (David Morrissey) about his intents. Brant forms an initially uneasy alliance with gay police chief Porter Nash - portrayed by an understated but impressive Paddy Considine - to pursue the murderer before he can inflict more damage on the force. A rare cinematic turn by acclaimed thespian Mark Rylance as Brant's bereaved boss serves as the icing on the cake.
What unfolds is far from sugary though, as the violence is particularly nasty and explicit. Frequent flashes of humour are mercifully on hand to ensure that the movie is not too grim to digest. Statham's delivery of the line "Do I look like I carry a pencil?" to a smarmy police shrink is one particular highlight, along with comical references to Michael Jackson's faeces and beloved '80s comedy
Diff'rent Strokes
. Well-paced direction from Elliott Lester, an invigorating chase sequence and a pulsating soundtrack are also important ingredients in
Blitz
's success.
However, if one delves beneath the surface, many flaws can be found. With the exception of the credible relationship that grows between Brant and Nash, much of the character development is too basic and by the numbers. David Morrissey's journalist suffers from this, being little more than a caricature, while Zawe Ashton has to work very hard to instil any hint of realism into the unconvincing twists that affect her morally conflicted WPC. There are also plot chasms towards the end (plot holes doesn't do it justice) that will leave you baffled for hours on end afterwards should you try to analyse a couple of sequences that wrap up the events. Fortunately, those faults aren't enough to overshadow the many positives.
Packing in far more laughs than the average comedy movie,
Blitz
is a surprisingly effective thriller that manages to harness Jason Statham's strengths. Blending grit and wit in striking style, it's a largely engaging enterprise that leaves you yearning for future adventures from Brant and Nash. Just try not to spoil the fun by thinking too hard about the movie afterwards.