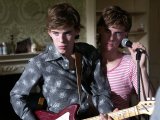 Directors:
Louis Pepe, Keith Fulton
Screenwriters:
Tony Grisoni
Starring:
Harry Treadaway, Luke Treadaway, Tania Emery, Tom Bower, Sean Harris
Running time:
93 mins
Tom and Barry Howe (the Treadaways) are conjoined twins who have been raised by their embarrassed father in isolation from society. However, their subtle lives will never be the same again when a typically exploitive music manager comes along and practically buys the boys from their father with visions of producing a pop act with an original gimmick. The film examines their short career in pub-rock and the inescapable pitfalls of drugs, drink and romantic competition.
Marking the feature directorial debut of
Lost in La Mancha
co-directors Louis Pepe and Keith Fulton,
Brothers of the Head
is presented in the form of a documentary with interviews from the main figures in their formation, featuring footage of the pair learning to play and writing songs as well as their day to day life. It's a credit to the filmmakers that the story comes across as so real when it's in fact a work of fiction based on a novella by Brian Aldiss.
When the twins' sister reveals that the pair suffered a tragic end, their fortunes are made all the more compelling as we see their transformation from two lads kept hidden from society into minor stars treading the path of fame experiencing drugs, depression and romantic rivalry in the disreputable '70s music business.
The term 'mockumentary' doesn't do this faux documentary justice. Rather, the documentary style is flawlessly mimicked in order to bring believability to a tale which could so easily have become a freak show if handled differently. While there are funny moments in
Brothers of the Head
it aims and succeeds in being a touching, well-crafted story with a catchy and authentic proto-punk soundtrack - this is not
Spinal Tap
.