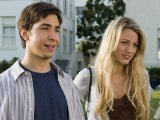 Director:
Steve Pink
Screenwriters:
Adam Cooper, Bill Collage, Mark Perez
Starring:
Justin Long, Blake Lively, Mark Derwin, Columbus Short
Running time:
90 mins
Certificate:
12A
When high school failure Bartleby Gaines (Long) is rejected by every institution he applied to, he and his friends in similar predicaments decide to make up their own university in order to fool their respective parents. However, when other rejects arrive at the South Harmon Institute of Technology in their droves, Bartleby's little white lie snowballs out of control.
Aspiring to emulate the more effective and meaningful high school/college movies,
Accepted
offers one of the better premises among the genre. However, the way in which the idea is handled is so lifeless and unengaging that what could have been a bundle of laughs and a decent satire is reduced to something so much less.
The characters are unoriginal, using familiar stereotypes (the first appearance of the Overweight Academic But Ridiculed One provokes a groan) and are given so little depth that it's impossible to become involved with them, though the actors gamely do the best they can. Bartleby himself never really gets our sympathy or interest - he's neither a rebel nor a particularly lovable loser.
The best, if a little over the top, performance is that of Lewis Black, whose professor character gives the movie most of its funny lines, focusing on the worth of and motivations behind higher education. Such hints that the film aims for a satirical level are misleading however – there seems to be little meaning to
Accepted
apart from even SHIT academics can be a success - and thus again the writers squander the idea's promising prospects.
Almost all teen comedies, even the bad ones, tend to produce at least half a dozen grudging belly laughs, but
Accepted
manages to go all the way through without giving us much in the way of laughs, meaning or surprise - we expect the ridiculous to happen and it invariably does. Including the predictable and tiring rousing speech to save the group's creation.
A comedy without laughs and a toothless satire,
Accepted
just doesn't make the grade.