Fresh from helping Batman save the day in
The Dark Knight Rises
,
Joseph Gordon-Levitt
finds himself in the other Gotham for writer-by-trade David Koepp's newest directorial offering
Premium Rush
.
Gordon-Levitt's New York bike messenger Wilee (a tip of the hat to Looney Tunes' Wile E. Coyote) earns his keep powering through New York on two wheels. No gears or breaks are required for Wilee, he's a thrill-seeker who's happy to ride like hell through Manhattan traffic so long as he makes it out alive. His day gets even more dangerous when he's tasked with delivering a mysterious package that Michael Shannon's bent NY cop Bobby Monday is desperate to get his hands on.
Monday is after it to clear a hefty gambling debt, but its true value is only revealed later as Koepp and co-writer John Kamps's non-linear narrative slots in the pieces of the puzzle as the movie progresses in near-realtime. It makes
Premium Rush
a nifty little thriller that's as nimble and speedy as its red-shirted leading man.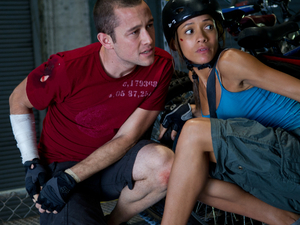 Unfortunately, Koepp can't keep up the frantic pace for the film's entire 90 minutes - his plot exposition sometimes lands clumsily, and a romantic subplot involving Wilee and fellow biker Vanessa (Dania Ramirez) doesn't quite click. Yet when the director seeks to generate momentum, weaving precariously through traffic and dodging police pursuit in Central Park, it's often a pulse-quickening experience.
In any chase movie, the crafty mouse needs a determined cat as its foe, and Shannon, soon to be seen terrorising Superman in
Man of Steel
, is a memorable adversary for Wilee. A fidgety, kinetic presence with a Joker-like laugh, he launches into the part with some emphatic scenery chewing. In a film that owes a debt to the animated antics of Warner Bros and Hanna-Barbera characters its perhaps fitting that's he's a villain of cartoon proportion.
Premium Rush
is essentially a high-class B-movie, a vehicle that instead of housing a frowning-faced performance from Jason Statham is all glossed up with a fast-rising Hollywood star at its heart. It's perhaps too slick at times, lacking the grubbiness and surreal lunacy of Statham's
Crank
flicks. That said,
Premium Rush
is still capable of providing its fair share of adrenalised thrills.
In some ways the film is a distant relative of '90s blockbuster
Speed
. The against-the-clock plot conceit, the determined hero and the demented villain are all present here, although Koepp's story is a significantly more intimate, low-key attempt to craft a Hollywood action-thriller. Fans of
Run Lola Run
may also pick up on a few similarities.
Premium Rush
doesn't reinvent the genre, but if you're on the lookout for fast thrills then this will deliver.